Like with the every season change, new fashion pieces are up into the stores and the temptation to splurge is building up inappropriately. But let's not rush and buy another 100 things we are not going to wear. Choose wisely and wear it more than once. Organise and re-review your wardrobe first!
Sustainable fashion talks are reaching wider audience this year. BoF and Mother of Pearl made sure to be heard on social media and LFW. It's something I wanted to talk about for a while now too. Consumerism is reaching its peak, which has a big impact on our environment, work ethics, health and many other things. I must admit I am not an expert of textiles or the most sustainable fabrics and not an activist. But I know that acrylic and polyester clothing = plastic, which not only is bad for our skin but ends up in the landfill. However, the one thing I make sure of, I don't buy things I am not going to wear and always re-wear my clothes! My personal strategy is to buy less and revise my wardrobe before I shop for a new season.
Here are 5 ultimate steps before you hit the stores:
1. Read up on fashion forecasts
Really good and handy approach, especially when sales are still on. You may actually score on a very relevant piece of clothing for a very good price. If you are not a fashion savvy, Friday night will be enough to read up on few blogs and google "2019 fashion trends". I.e. I've purchased Caroline Consta's blouse in polka dots for a very reasonable price on Net-a-Porter sale, just before polka dots literally exploded into the stores last summer. Not only have I achieved great quality and price ratio. It is also much less mainstream than any blouse from high street stores. I will be wearing it for a second summer already and I still wear it during any beach holiday.
2. Pick out relevant pieces
Since you are now familiar with upcoming season hits it is time to make a decision of what to keep. Take all of the clothing and shoes out of the wardrobe, so you can clearly see them all. Pick out still relevant pieces and don't be afraid to keep few sweaters or cardies for cold summer AMs and PMs. These will look fantastic over silk or checked skirts on colder summer days. If you have plenty of power suits which you are tired from, because you've been wearing them for few years straight, don't rush to toss. You can wear the trousers and blazer as separates to enhance other outfits too – perfect wardrobe additions. So if you have a navy suit, you definitely don't need another navy blazer. Psst… I owe this bag for 6 years now and yet, I still find ways to style it.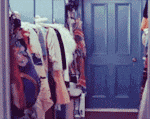 3. Organise the "KEEP" items
Organising your clothes in the wardrobe appropriately does half of the job. I use pretty simple formula. I hang clothes by category and by colour on proper wooden hangers to keep them in shape and immaculate condition. And fold anything what can be folded (jeans and fluffy sweaters!) Not only it helps to keep your clothing in tact – appealing wardrobe helps to pick your outfits and maintains the daily mood. I have nothing to wear situation definitely will happen less often that way. Since your wardrobe is very tidy now, you have a very clear view of what outfit gaps you are left with. And that will make your seasonal shopping much more efficient.
4. Toss anything what is unwearable
Sweaters – washed to death and covered in unsavoury bubbles which can no longer be removed and looks gross. Old shapeless trousers, shoe which is missing the heel, ripped or spilled clothing – all has to go. Just recycle into the suitable bin (remember we are trying to look after the planet here too). Don't collect the clutter, just say bye to the sweater which cannot be saved.
5. Re-sale the rest
It is understandable that you may not want to keep even most relevant and in perfect shape piece of clothing. Sometimes we simply get tired of wearing it over and over again. Good news! Re-sale and vintage market is a big thing right now. So just sell it! I use platform called Vinted. And I am happy to make those few extra pounds from the clothes I for sure know will never going to wear again, regardless whether they are on trend or not. I always feel responsibility to share something I no longer need. Whether it would be taking it to charity shop or selling it for a small fee to someone who is really looking for it.
If you completed all 5 steps above, you are ready now! Go! Go enjoy yourself! And let me know in the comments below if you have any other strategies how to keep your wardrobe's sanity?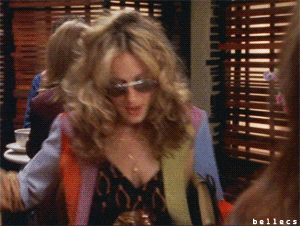 DISCOVER MY LOOK